The Origin Of The Teddy Bear
Posted by YIJIAO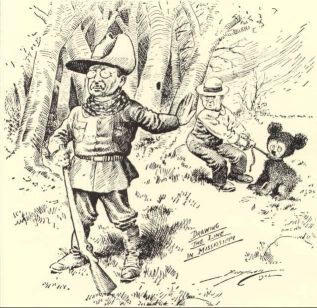 There are two Roosevelts in the HISTORY of the United States. One is called "Senior President Roosevelt" (26th President Theodore Roosevelt) and the other is called "Junior President Roosevelt" (32nd President Franklin Roosevelt).
The two Roosevelts were distant relatives. Their common ancestor was Nicholas Roosevelt, an immigrant from the Netherlands.
  Another story is that Roosevelt's father-in-law was president Roosevelt Senior when he married. It turned out that Eleanor Roosevelt's wife, whose parents died when she was young, lived in her grandmother's house and grew up under the care of her uncle, old Roosevelt, who was Roosevelt's niece.
  President Roosevelt Jr. is widely known for his "New Deal" that saved the United States from the Great Depression in the 1930s and established the United States as the world's hegemon after World War II.
  Roosevelt was held in high esteem at home. He was Roosevelt's predecessor and idol, and Roosevelt's guide on the road to politics. He even laid the foundation for Roosevelt's New Deal.
  In addition, Roosevelt sr. initiated the "national policy" of the United States with "gentle words and big stick in hand". He was the first to pay attention to environmental problems and formulate measures to protect natural resources. It is he who controls business practices and promotes fair dealing; It was he who paid attention to food and drug hygiene, enacted laws to clean up the agriculture, breeding and meat processing industries, and banned unhygienic food and drugs from entering the market. The world-famous Panama Canal was also built under his strong auspices...
  In 2006, the Atlantic Monthly, an authoritative MAGAZINE in the United States, invited 10 famous historians to select the 100 people who influenced the United States, and Roosevelt ranked 15th.
  The name Theodore comes from the Greek word meaning "gift of god." In America, family and friends do not usually call each other by their first names, but by nicknames. Theodore's nickname is Teddy or, more affectionately, Teedie. Teedie is transliterated directly as "Tidy," but the book takes a more naturalized translation and translates it as "Little Ty," giving it continuity with "Teddy."
  When people see "Teddy", they may naturally think of "Teddy bear". Teddy bears are named after Theodore Roosevelt. The president had a great love of hunting. One year he was invited to go hunting in Mississippi. The other huntsmen who went with him had made a hit, but the President was empty-handed. His entourage couldn't bear to watch, so they managed to grab one of the cubs, tie it up, and invite the president over to shoot. This seemed so immoral to the president that he refused. The anecdote was picked up by a writer who specializes in political cartoons, and within days the Washington Post ran a cartoon about it. But while the original cartoon featured a black bear on the verge of adulthood, it was a smaller, cuter bear that spread the most.
  Americans took delight in the cartoon and gave it a name -- "Teddy Bear". The president's nickname is teddy. (Though he prefers to be called by his first name, Americans still call him by his nickname.) So is the President.) The much-talked-about cuddly bear has also inspired toy manufacturers. Within a few months, a toy factory launched a stuffed toy in the shape of a bear and named it "Teddy Bear". This plush toy was an instant hit and has been popular ever since, which is also a classic case of popularity.
Collection 2019
Sale 70% Off
Title for image